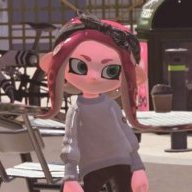 Joined

Feb 25, 2019
Messages

103
NNID

AmazingStrange9
Switch Friend Code

SW-0416-0878-7104
Hey everyone! So I decided to make an RP after a while of participating in them, and I thought, why not make a sillier, more lighthearted one? Sign-ups are in the character profile thread (you can be an Inkling Octoling, jellyfish, or anything else you can think of), and for discussion, fanart and all that, I will make an OoC thread. So here's pretty much the basics of what this is about:
Inkopolis was a perfectly normal city until one day- BOOM! Weird-haired people everywhere! Participating in turf wars, working shifts at Grizzco, just hangin'...they pretty much do whatever Inklings do, except they don't seem to have the slightest grasp on our culture...weird. They even have weird accents! WHAT'S GOING ON!?
(Basically, this is about the first Octolings that came to Inkopolis after their escape from Octo Valley/Canyon. Sorry for the mediocre summary...)
So here are the rules:
-Graphic violence, overly frightening images, occult and other shady practices, and explicit sexuality are prohibited. I want everyone to feel safe here.
-Swearing is cautioned against, although this board does already bleep out swear words sooo...
-Rules for creating characters are in the character sheet thread. (No Mary Sues and all that, y'know.)
-Do not disrespect things like race, religious beliefs, ideologies, physical or mental conditions (both diseases and disorders), and backgrounds.
-You can have as many characters as you want as long as you don't have too many to write without confusion.
-Also, both humanoid and less humanoid (such as Octarians and Salmonids) characters are allowed.
-References to other media are allowed, even if this does take place thousands of years after many of those were invented, as long as it doesn't take away from the fact that this is a Splatoon roleplay.
Last edited: