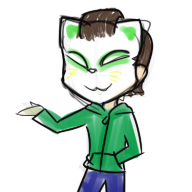 Joined

Jun 18, 2015
Messages

331
Location
Alga ==> Go to: Ruined Temple

Her heart was pounding. Her nerves were quaking. Her anxiety told her
she couldn't do this. Not alone. Not her.

Alga slipped through the mirror.

The temple was like a twisted facade of former beauty. The face of the temple looked to have been sanded unevenly by the rough hands of time's artisan. The pillars stood, jagged sentinels stoically ignoring their duty to hold any sort of ceiling.

Alga walked along the drab clay, a harsh contrast to the well-kept garden that she had so briefly visited. A rough, well-worn path led up to the face of a decrepit door. With a heave, Alga got it open.

The inside was much like the inside of the other world. Four pillars stood. Four pillars worn down with time. If they were ever as lustrous as those in the other world, there was no hint of it.

There still stood a raised platform and Alga could
almost feel the Greater Student standing there
, messing with scrolls that she didn't understand.

There appeared to be a few rooms off to the sides and a hallway behind the platform that the old man should have been.

Where to start?