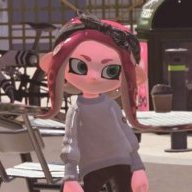 Joined

Feb 25, 2019
Messages

103
NNID

AmazingStrange9
Switch Friend Code

SW-0416-0878-7104
Okay, so here we go. I'm gonna let this be up to you, but here's the bare minimum:
Name
Age
Appearance and/or picture
Personality and/or bio
Gear and weapons they use would also be helpful.
You can also list quirks, abilities, favorite stuff, and talents if you want! Religious and ideological beliefs are also allowed.
Try not to make an OP or Mary Sue character.
You can use whatever species you want as long as it keeps to the whole underwater aesthetic. Or there's a reason for it being there. Or it's a bird. (Yes, semi-aquatic animals like frogs and platypi (Agent P of the Squidbeak Splatoon
) are allowed.)
Quotes are allowed.
So based on that, this is sort of a "make-your-own-bio" one because I can't figure out a system.