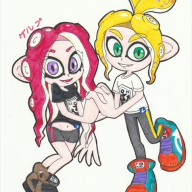 Joined

May 1, 2018
Messages

1,167
"Yes, there is a freed-up dorm room in our old base of operations, we use that base to house refugees nowadays. Don't worry, it's more luxurious than you might think." General Anemone replies.

Before he could show the two brothers, he talked to his communicator. "Area is clear, the infected are gone."

Just then Octarians and Octolings are seen leaving the various houses, both the ones that are part of the army and those who are not. Shark takes this cue to leave his house, hoping to have a discussion with General Anemone.