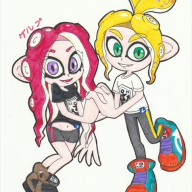 Joined

May 1, 2018
Messages

1,430
Location
Okay, so before I begin, I'm actually going to split this story into two parts, the first part will be in spoilers just so it won't add to the cluttering. But I do recommend reading the first part so the second part, which will not be under spoilers, will make better sense so without further ado, here it is.
A new day meant the search for Coral's Octo Shot begins with Coral and Clam's decision on where to go first.

"Okay so to look for your Octo Shot, it's better to start at the most dangerous places first. So I suggest that underground railway first." Clam gives his suggestion.

"Wait, isn't that where the Deep Sea Metro usually stops at?" Coral asks. "I don't know if there are still Sanitized Octarians down there."

"Well, that's why we start our search down there first so that we can continue in a safer place next." Clam explains.

"That's actually a great idea! Just one problem though." Coral accepts but then starts explaining.

"What is the problem?" Clam asks.

"Anyone malicious could find out where we live, which could put the entire neighborhood in danger." Coral finishes explaining. "I'm pretty sure that General Anemone would hate for this to happen."

"You're right, any ideas?" Clam asks a follow-up question.

"I could go undercover, just changing my hairstyle and clothes will make me look different enough." Coral suggests.

As the two brothers discuss the plan further, Kelp and Ocean arrive just in time.

"Hey boys, have you formulated a plan yet?" Kelp asks Coral and Clam.

"We were thinking that I could go undercover." Coral answers.

"Why would you need to go undercover?" Ocean asks, she hasn't heard of the plan before.

"Because he is going underground, where the Deep Sea Metro stops." Clam answers for Coral.

"Can I come?" Kelp asks, hoping her sister lets her accompany Coral.

"Okay, but on one condition: You will come back home before night comes around." Ocean decides.

Later, Coral and Kelp take out their Agent 8 outfits and put them on, then they use a special machine that changes their hairstyles without cutting the tentacles at all. Coral and Kelp now look at themselves in front of the mirror.

"Never thought we would wear these again." Coral says.

"Me neither, but if it's to find your Octo Shot, then it's worth it." Kelp replies.

Clam and Ocean walk in to make sure that the search for the Octo Shot doesn't begin too late.

"Are you two ready?" Clam asks.

"The sooner we start the search, the sooner we can eliminate the Deep Sea Metro as a place of investigation." Ocean points out.

"Yeah, we're ready." Coral answers.
Coral and Kelp make their way to Central Station, the place where the underground train stops at.
"Here we go again." Coral quickly says.
"Let's make our search as thorough as possible." Kelp suggests.
"Yeah, let's do that." Coral agrees.
While Clam and Ocean aren't with them, they still make sure to watch Coral and Kelp through the cameras to make sure that they are safe.
"Hmm... not here apparently." Coral says as he checks each of the lockers.
"I didn't find it yet either." Kelp replies after she checked behind the giant door.
After about 2 hours of searching, the Octoling couple decided to take a break, now sitting next to each other on a row of chairs.
"So, while we take a break, let's discuss our future as parents, I never got to talk to you about it." Coral suggests.
"Yeah, you know, I always wanted to talk about our future." Kelp agrees.
"So, how many Octoling children do you want to have? I think two is enough." Coral starts the subject.
"Two? I want more!" Kelp replies, just as usual without hesitation.
"Wait, more? What about our tentacle children?" Cotal asks.
"Oh right, gotta make sure Clam and Ocean are going to have relatable nieces and nephews." Kelp realizes.
"Plus, with more than two Octoling children, that means that you will have wait for the egg inside of you to develop for some amount of months more than twice." Coral points out.
"I don't mind that actually, I just find baby Octolings to be so adorable." Kelp replies.
"Well, we will try to make it work, just remember that we promised each other that for every Octoling child of our own is born, we must have a tentacle child to protect each one." Coral tries to get Kelp to remember. "Don't worry though, you will be a great mom, I'm sure of it."
"Aw thank you. I know that you're going to be a great dad to them too." Kelp replies
The Octoling couple continued talking about their plans to become parents until they get the energy to resume their investigation.
Last edited: