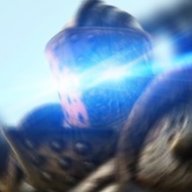 Joined

Jul 5, 2015
Messages

482
Location
I completely scrapped the idea at this point in favour of something else. Was becoming a fanfiction, and not the type I'm good at.
Octo Lab --- Polished Edition
Summary
Abducted from Inkopolis or Octo Valley, you wake in either a burnished lab or a verdant lab. Shortly afterwards a voice rings out in the labyrinthine corridors. The voice introduces himself as Shen, a mad scientist who selected a small group of people for a experiment, an experiment he doesn't even remember why he created it, but he continues it for his entertainment. You need to escape but also put an end to this mad theater.
Description
Octo Lab is -again- a darker, gritty roleplay. There are multitude of dangers specific to the two labs. Lab Block Crimson-Squid is the burnished, orderly lab controlled by Shen's aptly named Legion-bots, which travel in groups wandering the lab, thankfully they take a while to power up (Won't be active until the first month long cycle ends.) But that isn't a reason to be relaxed just yet, you need to get your bearings and progress forward. Lab Block Emerald-Octo is the verdant, overgrown lab not controlled by a single entity but has tons of environmental hazards that will hamper your progress, there will still be Legion-bots roaming the corridors but they'll be much fewer in number and will travel in Pairs. Same rules from before apply to them.
The first cycle is story oriented, however after the end of the cycle, the two labs release their respective story arcs and gameplay, Crimson-Squid is the more combative of the two, but will still have a story and vice versa. The month cycle is divided into week long cycles to both progress the gameplay and to develop a storyline.
How 2 pleh
The roleplay will begin when the GM gathers a sufficient amount of players for each lab or a single lab if little sign up. Max would be 10 players if it fills up, 4 is the minimum and 8 is both labs active
Classes are tricky, they would have an adjective to describe your character from personality and background info.
Ex: Terence is a Firm Soldier
Roles for the characters are
Soldiers
have more detailed explanations in combat, but see little exploratory options
Seers
have the ability to see through hallucinations, thus revealing the enemy if they're hidden but have less then normal combat options
Traveler is an all-round, average class no perks, no detriments either.
Warriors
can have two Active weapons, but suffer a smaller inventory by 2
Explorers
can notice more exploratory (Possible Story?) options then other roles but suffer a reduced inventory by 2.
If you can make ideas for better names, please say so.
That brings me to the combat sections and Inventory management
The inventory should be displayed in a little spoiler on the bottom of each post, not to mention the GM (Probably me) will keep a note on what's in everyone's inventories, just to insure no one cheats and pull a dynamo roller out of a golden purse and club their opponent with it. The other part is your active weapon which should be displayed on the top. Here's an example on what a inventory looks like
Active weapon: Metal Bar
Inventory slot 1: Small Ink tank
Inventory slot 2-3: Octo Pistol
Inventory slot 4: Sticky Notes and pencil
Inventory slot 5: Empty
Inventory slot 6: Empty
There are 3 tiers of weapons
Heavy weapons are stuff like: Chargers, blasters and rollers
Medium weapons are things like: Shooters, pistols and Ink-blades
Light weapons are stuff and things like: Metal bars, Ink-knives, damaged variants of medium weapons and S.I.Gs (Sub Inkage Gun)
Light weapons take no slots medium take 2 and heavies take 3 however they all take no slots if wielded as their active weapon
Combat, I will probably need to improve on, basically it starts off with 5 actions, 2 of which are specific to class and personality I'll give an example
Charge 'em and smash 'em over the 'ead with the metal bar (A soldier themed option)
Find a place to take cover and fight, switching to your high power Octo-Pistol (Based on Terence's firm attitude when it comes to fighting in certain locations)
Slam with your metal bar (Standard option)
Ink pants and panic, flailing your arms around wildly (Basically waste your turn)
Flee, the enemy is too much for you! (End turn and disengage from the fight, dropping the active weapon to run away)
The player or players if you're in a group all need to do their turn to end the fight or progress it if the enemy is much more stronger then the player characters.
I'm not sure so the combat section is subject to change. Permadeath is a present threat, but is only an extreme threat if your playing alone or are separated, players in groups can win the fight, thus reviving any fallen players. But if the entire player group loses the fight, by either running, abandoning teammates to their fates or all getting defeated by the enemy. Although it should be a rare case, like extremely rare that an entire team loses. Your done game over man, game over.
The GMs make a thing you respond to once, not twice, nor thrice but once once everyone responds the next part will happen, unless not everyone responds then at the end of the week it'll continue, the player gets a warning to respond, up to 3 then your out with a simple explanation you got splatted by a hydro cannon bam. The GM will try and get your attention with an @ symbol.
So what do you all think?
Last edited: