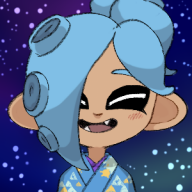 Joined

Jan 28, 2021
Messages

12
The original post I just wrote got deleted because my computer shut off for no good reason! I'll try to recall everything I had said.

I love how Splatoon 2 has two different stories with plots and gameplay unique from each other. You can travel through a canyon on a grand rescue mission as Agent 4, or you can work hard to escape a trial facility as Agent 8. Both of them are awesome. Because of this, I thought it would be cool if Splatoon 3 had

four

story modes. One mode similar to Octo Canyon, one similar to Octo Expansion, one like both, and one like neither. Additionally, two of them you could start with, one you could unlock from beating both, and the last one would be paid DLC. I'll probably make a different post for each mode, so I'll start with a mode similar to Octo Canyon that the player starts with:

Octo Conquest.


Octo Conquest: Plot, concept, gameplay​




Concept:

The City of Chaos is at its peak in juvenile activity. Well, it was, until Squids, Octopode, and their Salmon friends began to vanish in great numbers. Who could be behind this? Why would someone do this? How will you save the city? It's up to the player to find out.

Gameplay:

Gameplay-wise, Octo Conquest is very similar to Octo Canyon. In fact, it actually takes place in Octo Canyon, but a year and a half after the New Squidbeak Splatoon rescued Agent 1, the decorations and glittery ink are almost entirely gone. The levels have been changed and the Kettles reorganised in the case that the NSS were ever to return. Salmonids serve as the basic enemies, and other cephalopod kids with a variety of weapons fill most of the other roles. Instead of getting Zapfish, each level has a bundle of Golden Eggs waiting at the end for you to take back to Tentakeel Outpost. Different weapons are also still supplied by Ammo Knights! Bosses, which still take place in circular arenas, give you larger bundles. Octoling levels return as well, except there's also Inklings. Instead of a bunch of eggs at the end, the eggs are scattered all over the place. The Octavio fight takes aspect from both Valley and Canyon's modes, as it's not only challenging but also cinematic. You'll see why in the plot section.

Plot:

It all begins when a news story comes out warning the public of the mass disappearance of Splasville squidizens. While walking around the hub world, the player might encounter a manhole with a suspicious sign above it. Approaching the sign and hitting

A

reveals that the sign says "free candy". If the player enters, they'll appear in Tentakeel Outpost, but without all the decorations and stuff. And look someone's standing there! They were probably waiting for you. It's... Pearl? Unlike How Four had no clue who Marie was, the player recognises Pearl as a bringer of chaos and respects her. Pearl informs the player that she is the official "Lethal Voice and Last Line of Defense" for the New Squidbeak Splatoon, and the Captain wanted her to tell the player to help save Splatsville as Agent 5. She takes their "confused silence" as a yes, which was also an instruction from the Captain. And thus, Agent 5 sets out on a quest to save their city. As Five traverses through the different sectors of Octo Canyon, they learn new things about the adventure after each boss fight through radio cutscenes (I love those). The first one's just saying that the players doing good and all that stuff, and questioning if the kids and Salmon you fight are the ones that went missing. After beating the second boss, the topic changes to a message from the Captain. Unfortunately, Pearl forgets part of the message, but tells the player all she remembers, which is basically that the Captain wanted her to tell them a bit of history of the NSS, so the player gets a brief summary of the past three story modes. Once Five returns to Tentakeel Outpost to drop off all off the Suction Cup Lookout eggs, they notice a photo of the NSS (the one from that art where Four's in the corner trying to take a selfie). This allows you to customize what the Agents look like; they'll come up later. In the third cutscene, Five gets to meet the Captain herself! First she asks Pearl if she explained what happened to Agent 5, and Pearl admits she forgot. The Captain sighs, and tells them that the kids and salmon that they fight are in fact the ones that went missing. She ensures them that they're all just hypnotized and they have respawns, so you're not killing innocent people. She then goes to explain that Agents 3 and 8 were among the missing children, and Agent 1 vanished without saying anything recently, but no one's sure if that's related to the rest of the disappearances or not. She ends the call by saying that she gets it if Five is confused or overwhelmed by the whole Agent situation, as she herself used to be Agent 2. With that she hangs up. For the fourth and final call, Pearl mentions the crazy amount of eggs you've collected and wonders what the actual heck the bad guys need that many eggs for, but her comment is interrupted by a bit of static, followed by none other than DJ Octavio complaining about how there's always another Agent, and then telling Agent, wait, what's your number? Five, huh? that they won't stop him from conquering Splatsville, no matter what. Once he leaves, Pearl notes that the dude who just said that was DJ Octavio, and the Agents have beaten him several times so they shouldn't worry, but she does say his plan's a little more hardcore than usual. After beating all the basic levels in Cephalon HQ, the boss kettle opens and you can now enter. This time, since Ammo Knights is simply supplying the weapons and Sheldon doesn't need research, you can choose any of the Hero Weapons to fight the boss. Octavio's first phase is relatively similar to his fight in Octo Valley. Five chases him down a complicated system of platforms and he uses a variety of attacks, some from Valley, some from Canyon, and some new ones (his mech now has four arms). However, before the second phase, he leads you to a circular platform and two figures appear behind him in his mech: Three and Eight, looking like how you customized them and both dressed like the enemy uniforms. The second phase has you fight Agent 8. Eight skillfully wields an Octoshot and uses an Inkjet every now and then. Once you beat them their hypnosis wears off (the Inkantation's basically eternally in their head) and they thank you. The third phase fittingly is against Agent 3, and Eight helps you out. Once you beat Three they end up falling unconscious, as the Inkantation isn't burned into their brain the way it is for Eight. Before the final phase starts, Eight signals to Five to fight Octavio. Your character nods, and Eight picks up Three and superjumps away to wake them up. The final phase is still in the arena from the Agent fights. The phase is basically impossible. However, if Agent 5 gets splatted, instead of respawning the game goes into a cutscene. Five is lying on the ground and Octavio is sitting in his mech acting evil, but before he can deliver a final attack, a single suction bomb appears on the front of his mech. He's able to back up before it explodes, and once it does he gets back to the front and sends all four of the mech's arms in different directions to find out where it came from. They're all knocked back, knocking Octavio out of it. It is then that the mystery attacker reveals themself. A voice says "I've been waiting a year and a half to do this" before a hooded figure jumps into the arena and splats Octavio with a Hero Roller. The person's hood falls off. Callie stares at the ground with a satisfied grin for a bit, then helps Five up and lets them claim the huge supply of Golden Eggs Octavio had left after most were taken at the end of missions. Now that the New Squidbeak Splatoon have saved a city once more, the Team Hacker who just finished a mission with another Agent is able to hack into every speaker and radio in Octo Canyon, allowing the Calamari Inkantation to play for all the hypnotized kids and salmon, freeing them. Play credits.

-------------

But where's Agent 4, and what was the "Team Hacker" doing while Five was on their adventure? Find out in the other starting mode,

Grizzly Den.
THIS IS GREAT!